FESTIVAL HIGHLIGHTS
Here are the must-see films playing this year's LAFF
.
The Year of Spectacular Men
The Year of Spectacular Men
– USA (DIRECTOR Lea Thompson WRITER Madelyn Deutch PRODUCER Damiano Tucci, Daniel Roth, Howard Deutch, Gordon Gilbertson CAST Madelyn Deutch, Zoey Deutch, Melissa Bolona, Lea Thompson, Avan Jogia, Nicholas Braun, Brandon T. Jackson, Cameron Monaghan, Zack Roerig, Jesse Bradford) – A woman struggles to navigate the seemingly incessant failures of post-college adulthood, leaning on her equally complicated mother and sister for support.
Described by director Lea Thompson as "the movie Woody Allen would make today if he were a 20-year-old girl." This film is one of the genuine surprises of this year's festival.
THE YEAR OF SPECTACULAR MEN will be playing at 9:00 PM on June 16th at the ArcLight Santa Monica
Your Own Road
Your Own Road
– USA (DIRECTOR/WRITER Brandon Buczek PRODUCERS Brandon Buczek, Roxy Shih CAST Ashton Moio, Cortney Palm, Kym Jackson, Amir Malaklou) – An idealistic recent film school graduate with few local professional options takes a road trip from Ohio to Los Angeles with his anxious best friend, his troubled high school sweetheart and a hitchhiker hippie, to chase his dream of becoming a filmmaker.
YOUR OWN ROAD will be playing at 6:15 PM on June 20th at the ArcLight Santa Monica
And Then There Was Eve
– USA (DIRECTOR Savannah Bloch WRITERS Savannah Bloch, Colette Freedman PRODUCERS Jen Prince, Jhennifer Webberley CAST Tania Nolan, Rachel Crowl, Mary Holland, Karan Soni, Anne Gee Byrd, John Kassir) – After the sudden disappearance of her husband, a woman enlists the help of his coworker to fill in the missing pieces
AND THEN THERE WAS EVE will be playing at 2:50 PM on June 18th at the ArcLight Santa Monica
Desolation
– USA (DIRECTOR Sam Patton WRITERS Matt Anderson, Michael Larson-Kangas PRODUCERS Kim Patton, Lauren Bates, Mara Barr CAST Jaimi Paige, Alyshia Ochse, Claude Duhamel, Toby Nichols) – On a trip into remote wilderness to scatter her late husband's ashes, a mother, her son, and her best friend must confront their deepest fears when a lone hiker begins following them.
DESOLATION will be playing at 9:30 PM on June 21st at the ArcLight Culver City
The Neighbor
– MEXICO (DIRECTOR/WRITER Giancarlo Ruiz PRODUCERS Pablo Llana, Carlos Cortez B, Giancarlo Ruiz, Rodrigo Alvarez Flores, Fernando Guzman CAST Paco Mufote, Isabel Orizaga, Sergio Valdez, Joseph J. Stephen) – A man's obsession with his downstairs neighbors escalates as he moves from voyeur to tormentor to kidnapper in this intense, experimental character study.
THE NEIGHBOR will be playing at 9:45 PM on June 19th at the ArcLight Culver City
For tickets and complete showtimes click
here
All films in competition
US FICTION COMPETITION
20 Weeks
– USA (DIRECTOR/WRITER Leena Pendharkar PRODUCER Jane Kelly Kosek CAST Anna Margaret Hollyman, Amir Arison, Sujata Day, Michelle Krusiec, Jocelin Donahue, Richard Riehle) – During a routine scan, a young couple navigating their first pregnancy discover a health condition that could gravely impact their baby, forcing them to re-examine their relationship and their future. World Premiere
And Then I Go
– USA (DIRECTOR Vincent Grashaw WRITERS Brett Haley, Jim Shepard PRODUCERS Laura D. Smith, Rebecca Green CAST Arman Darbo, Sawyer Barth, Melanie Lynskey, Justin Long, Tony Hale, Carrie Preston, Melonie Diaz, Royalty Hightower, Sean Bridgers, Michael Abbott Jr.) – Two teenaged outsiders are demoralized daily at school, until an idea for vengeance offers them a terrifying release in this film that is based on the acclaimed novel Project X by Jim Shepard. World Premiere
Beauty Mark
– USA (DIRECTOR/WRITER Harris Doran PRODUCERS Harris Doran, Penny Edmiston, Gill Holland, Kiley Lane Parker CAST Auden Thornton, Catherine Curtin, Laura Bell Bundy, Jeff Kober, Madison Iseman, Deirdre Lovejoy) – Inspired by true events, when a poverty-stricken young mother and her three-year-old son are evicted, she turns to the only person she knows with any money—the man who abused her as a child. World Premiere
Becks
– USA (DIRECTORS Elizabeth Rohrbaugh, Daniel Powell WRITERS Elizabeth Rohrbaugh, Daniel Powell, Rebecca Drysdale PRODUCERS Alex Bach, Elizabeth Rohrbaugh, Daniel Powell CAST Lena Hall, Mena Suvari, Christine Lahti, Dan Fogler, Rebecca Drysdale, Hayley Kiyoko, Michael Zegen) – After a crushing breakup, an aimless singer-songwriter moves in with her ultra-Catholic mother and strikes up an unexpected friendship with the wife of an old nemesis. World Premiere
Don't Come Back From the Moon
– USA (DIRECTOR Bruce Thierry Cheung WRITERS Bruce Thierry Cheung, Dean Bakopoulos PRODUCERS Lauren Hoekstra, Jay Davis CAST Jeffrey Wahlberg, Alyssa Elle Steinacker, Zackary Arthur, James Franco, Rashida Jones) – The men of a small town on the edge of nowhere mysteriously disappear, one by one, leaving women and children behind to fend for themselves in a desolate and dreamlike world. World Premiere
Everything Beautiful Is Far Away
– USA (DIRECTORS Andrea Sisson, Pete Ohs WRITER Pete Ohs PRODUCERS Saul Germaine, Andrea Sisson, Pete Ohs CAST Julia Garner, Joseph Cross, C.S. Lee) – This arthouse science fiction fable is set on an isolated desert planet, where a man who is looking for parts to repair his robotic companion teams up with a young woman who is searching for an imaginary lake. World Premiere
Izzy Gets the Fuck Across Town
– USA (DIRECTOR/WRITER Christian Papierniak PRODUCERS Meghan Lennox, Christian Papierniak, Mackenzie Davis, Melissa Panzer CAST Mackenzie Davis, Alex Russell, Lakeith Stanfield, Carrie Coon, Haley Joel Osment, Alia Shawkat, Annie Potts, Brandon T. Jackson, Rob Huebel, Sheldon Bailey, Meghan Lennox, Dolly Wells) – A hungover riot grrrl discovers that her ex-boyfriend is getting hitched to her ex-best friend and throwing a bougie engagement party across town. With no car and tons of energy, she embarks on a cross-city quest to break that shit up before it's too late. World Premiere
Moss
– USA (DIRECTOR/WRITER Daniel Peddle PRODUCER John Solomon CAST Mitchell Slaggert, Christine Marzano, Billy Ray Suggs, Dorian Cobb) – While roaming around on his eighteenth birthday, an isolated young man encounters a mysterious and beautiful hiker who guides him through a psychedelic rite of passage. World Premiere
Never Here
– USA (DIRECTOR/WRITER Camille Thoman PRODUCERS Julian Cautherley, Radium Cheung, Bronwyn Cornelius, Corey Moosa, Camille Thoman, Elizabeth Yng-Wong CAST Mireille Enos, Sam Shepard, Goran Visnjic, Vincent Piazza, Nana Arianda, Ana Nogueira, Desmin Borges) – An installation artist follows and photographs strangers for her art until disturbing events lead her to suspect that someone out there is watching her. World Premiere
Village People
– USA (DIRECTOR Paul Briganti WRITERS Dan Schoenbrun, Paul Briganti PRODUCER Jon Cohen, Rosie Kaller CAST Aya Cash, George Basil, Brandon Scott, Echo Kellum) – When a man's wife flakes on a last-ditch effort to save their marriage, his overeager brother-in-law joins him on a trip to a hipster resort in Nicaragua, where they meet a free-spirited American ex-pat and their friendship takes an unexpected turn. World Premiere
WORLD FICTION COMPETITION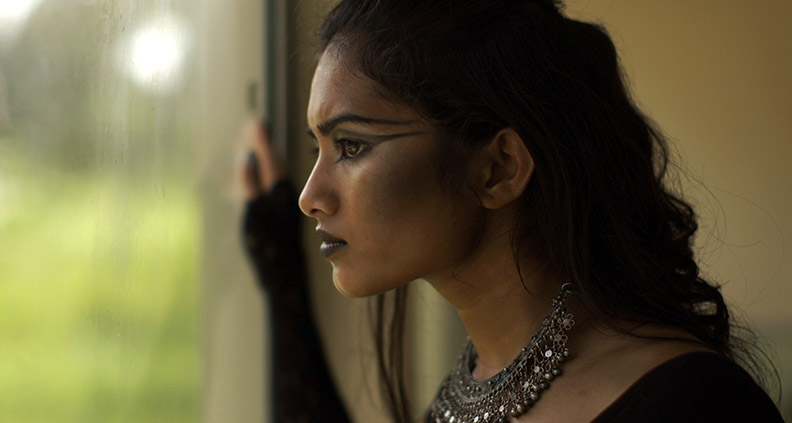 Moko Jumbie
LA MUSE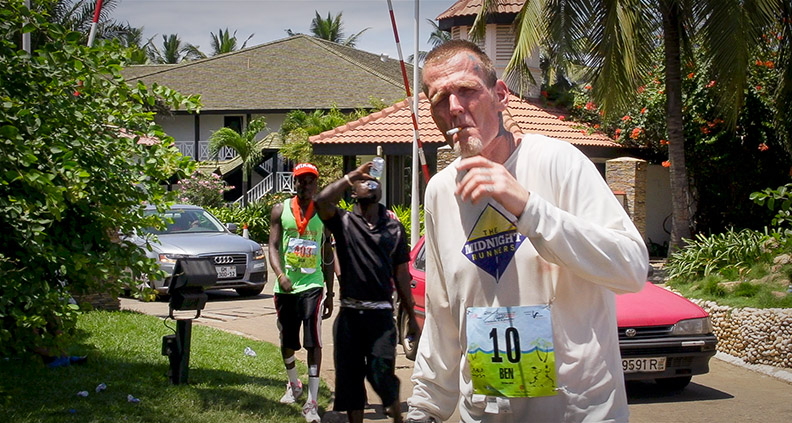 Skid Row Marathon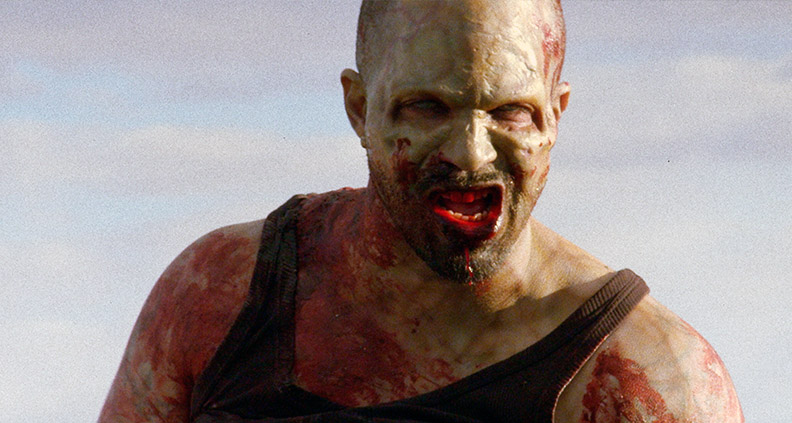 It Stains the Sands Red
DOCUMENTARY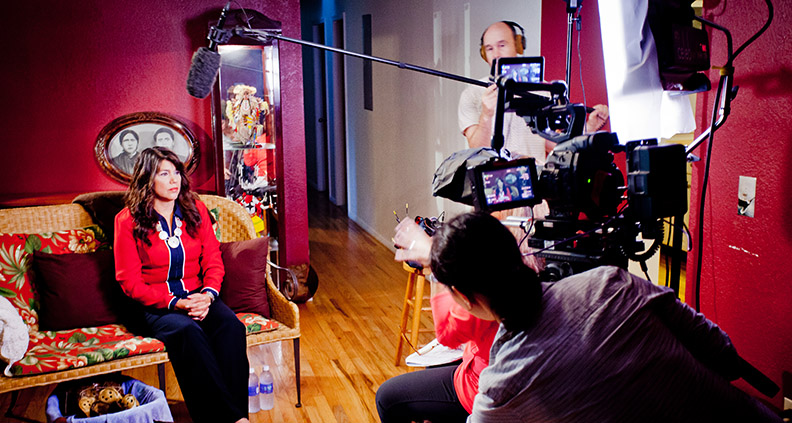 Mankiller